A superior text message spy, Highster Mobile not only enables a user to retrieve new text messages from any cell phone, it will also extract old and deleted text messages as well. The astonishing thing is that you can do all this without actually having the phone in your possession. It is not uncommon for users to report the extraction of text messages from up to one-year-old.
If you are spying on a an iPhone and you are either unwilling or unable to jailbreak it, Highster Mobile is for you! Their No-Jailbreak program is tops in the industry and, in my opinion, is by far the easiest to use and most powerful. I found that it captures more data, in less time, than any of the competing programs. Access to the monitored device is not necessary.
Activation is pretty fast and fairly simple.
How to track text messages on another persons phone with sms spy tracker?.
spy apps for galaxy s6?
SMS Tracker & Monitoring for Android, Track Sent/Received Text Messages | Mobile Tracker Free.
sms spy for iphone 8 Plus;
best app to spy iphone X.
How to Track Text Messages?
I used the OTA over-the-air method to install the program, which allows for the app to be downloaded using only a WiFi connection. I entered my license key, then the telephone number of the phone I wanted see text messages from.
Spy on text messages
I saw the content of each text, the date and time of the message and the phone number to which is was sent or received. I was pleased to see that it worked so well. Any person who buys this program can actually call the number on the website and speak to a live person. The other is Auto Forward Spy. It also comes with free lifetime upgrades so you never have to buy another SMS text tracking program again.
It allows users to view a targeted devices browser history, spy on text messages, take photos remotely and much more all without having the phone in your possession. Excellent customer support with LIVE people answering the phone. Of course, I called just to see if real people would actually answer the phone and if they knew what they were talking about, which they did. I was very pleased with how helpful they were. PhoneSpector is my personal choice for the best spy app on the market.
It represents the departure from traditional spy apps to a more powerful, in-depth and easy-to-use app that is a better fit for todays mobile devices. Superb for spying on text messages and iMessages, you will not find a better text spy app, or cell phone spy app than PhoneSpector.
Good option for any phone. It will extract iMessages and text messages from all iPhones and iPads. To use the no-jailbreak solution you do not need to install any software to the target phone. Data from the iPhone or iPad is extracted and displayed in your user account which can be viewed from your cell phone, tablet or computer. All you need is an Internet connection or a cellular data connection. There are no additional costs or monthly fees associated with the purchase of this program.
The customer support is among the best there is. Questions get answered quickly and issues get resolved immediately. It is my top choice for spying on iMessages and text messages of any Apple device and Android device. The internet is a dangerous place. Full of dangerous people. A world that we carry along with us in our hands. So how can you protect the ones you love from those seeking to do harm?
Then fill out the billing information. When your payment is confirmed, go to your email box for further instructions. Follow the installation guide sent to your email. The installation process will take several minutes. As soon as you completed the installation process, you will be able to spy on text messages, social media messengers, track GPS location, view browser history and use other 25 features.
Nowadays, everybody knows that it is possible to learn a lot of information about a person in the Internet. This platform spurred the development of many social networks, thus giving people more opportunities to communicate with each other quickly and easily. A cell phone is still considered the best and fastest way of communication because everybody has smartphones.
What Is the Remote SMS Spy Tracker?
It is also the invaluable device that helps store and retrieve personal data. A cell phone is a good source of information about its owner. There are many potential ways to spy: text messages from different social networks, voice mail, multimedia files, GPS tracking, etc. To do it, you may use a special program — a text tracker that gives you an excellent opportunity to read text message of all types — both sent and received.
This program must be installed on a cell phone of a person on whom you want to spy. Modern software market offers many different spying programs. Therefore, you can find a simple text tracker easily. However, there is a limited number of reliable and high-quality programs, so knowing how to select one is the main problem. One of the best offers is an mSpy sms tracker.
Remotely track & monitor calls, text messages, browser history and much more!
Here is a compatibility chart for mSpy:. The basic bundle is only available on monthly subscriptions. Premium and no-jailbreak bundles are available in 1-month, 3-month and month subscription. See Also: Why Xnspy is better than mSpy? SpyEra was originally created as a text message spying app but later on, more features were added to help parents and employers keep tabs on the activities of another person.
Its control panel provides with you all the captured data from text messages in a single report. SpyEra captures sent and received text messages along with the ones that have been deleted. You can check details such as contact name, the phone number associated with the message, and also its date and time.
It gives you real-time access to the data on the monitored device. Through your web-based control panel, you can read all these messages anytime.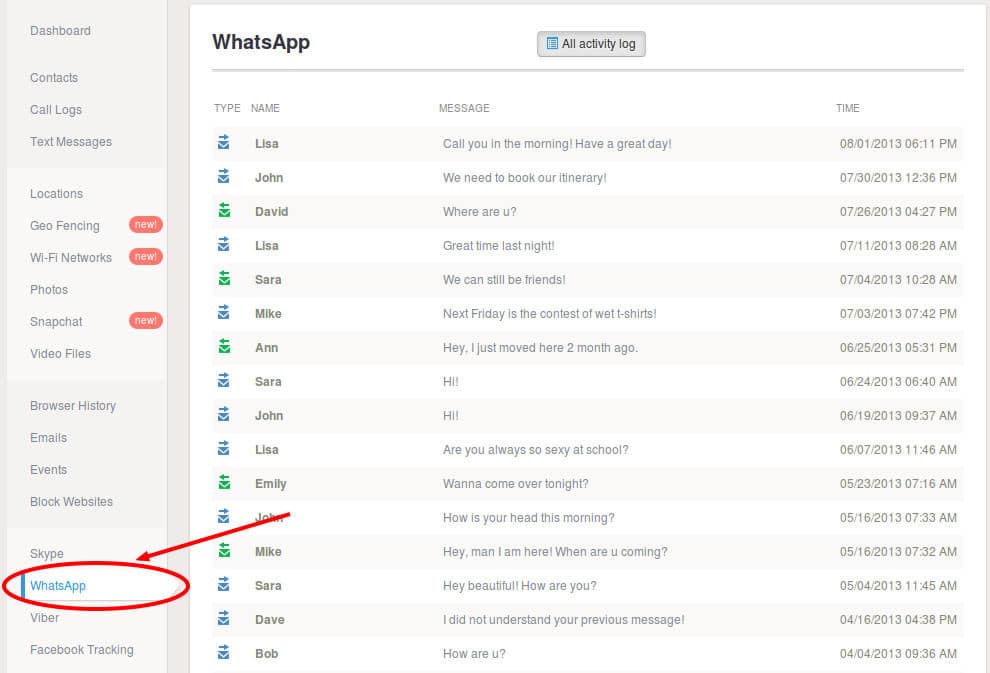 It notifies you whenever the target device receives a text. Also, you can download all these messages in an excel file. Blurspy is compatible with Android and iOS. Check the compatibility chart below for more details:. It allows you to read all the incoming and outgoing text messages on an Android or iOS device. You simply have to install it on the target device and let it do the spying.
MobiStealth is compatible with Android and iPhone no jailbreak required. In case you think your child or employee is abusing their texts or internet privileges then GuestSpy could be another app that you could give a try. GuestSpy lets you track all the sent and received messages on the target device. You can also view the deleted messages from the control panel.
You can also get the time and date stamps of each message. GuestSpy is compatible with Android and iPhone jailbreak is required. Check the compatibility chart here:. GuestSpy is available in three plans.
SMS Tracking App for iPhone & Android, Text Messages Spy Software | mSpy
As the name suggests, TheTruthSpy is a mobile spying app that can let you keep tabs on another phone without touching it and get to the truth of everything. Its text message tracker lets the user spy on the incoming and outgoing text messages on Android and iMessages on iPhone. You can also get the name of the person, contact number and check the date and time stamps.
see TheTruthSpy is compatible with Android and iPhone jailbreak is required. TheTruthSpy is available in 3 plans. One-month, three-month, six-month and month subscriptions are available. You can use this app for monitoring your teen, employees, and even other family members. You can view text messages on Android and iMessages on Phone. Along with reading all the incoming and outgoing text messages, you can check the time and date stamps plus the contact name and number.
SurePoint spy is compatible with Android and iPhone; however, a jailbreak is required to monitor iOS devices. The decision is tough, I know, since most of the above-mentioned apps are offering pretty much the same features. They let you check the sent and received messages, check time and date stamps and even view the contact names and numbers.
However, your decision should be based on not just the text spying feature, but also the compatibility, price, and support that an app offers. Plus, if you have been looking for some additional features on the top of text spying, you should consider that too. Keeping in view all these factors, our top pick is Xnspy.
Part 2. How to Catch A Cheating Spouse Texting.
cell watch cell phone monitoring software.
Useful links;
Conclusion.
free cell phone spyware for android;
i spy books app.
Let me explain why:. Xnspy is a highly compatible app. It supports Android Oreo and iPhone None of the other apps mentioned above compatible with the latest operating systems so this makes Xnspy score its first point.
It is cheaper but it is not compatible with the latest OS; plus, it requires jailbreaking an iPhone.